17 Nov
Synapse Reconnections Wagga Wagga – November, 2022
Synapse is pleased to announce a new monthly Reconnections peer group in Wagga Wagga run by Synapse volunteer Peter. These regular meet ups are for people with brain injury and their support network to come and connect face-to-face with other individuals living with brain injury and their families. This will be an opportunity for you to share some of your challenges, your victories, your tips and tricks. Come and learn from other people's stories and hear about different experiences of brain injury and issues that are important to you. You will be in a supportive space with people who understand.
Synapse Reconnections Wagga Wagga
Date: Thursday 17 November 2022
Time: 10am -11am
Venue: Melba's Bakehouse & Eatery
214 – 220 Baylis Street
Wagga Wagga, 2650
Peter will be wearing a bright blue Synapse T-shirt so that you can easily identify him at the cafe.
There will be a table booked under the name of "Peter, Synapse" (photo of Peter below).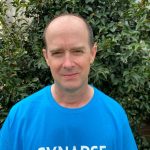 Food and drinks will be at your own expense. The venue is subject to change, so be sure to RSVP.
If you are unwell, please do not attend.
RSVP to Nadine Holliday
1800 673 074
nholliday@synapse.org.au
If you have any questions please do not hesitate to contact me. We hope you are make it.