22 Jan
Brain Drain Co. Market Day shows local support for Synapse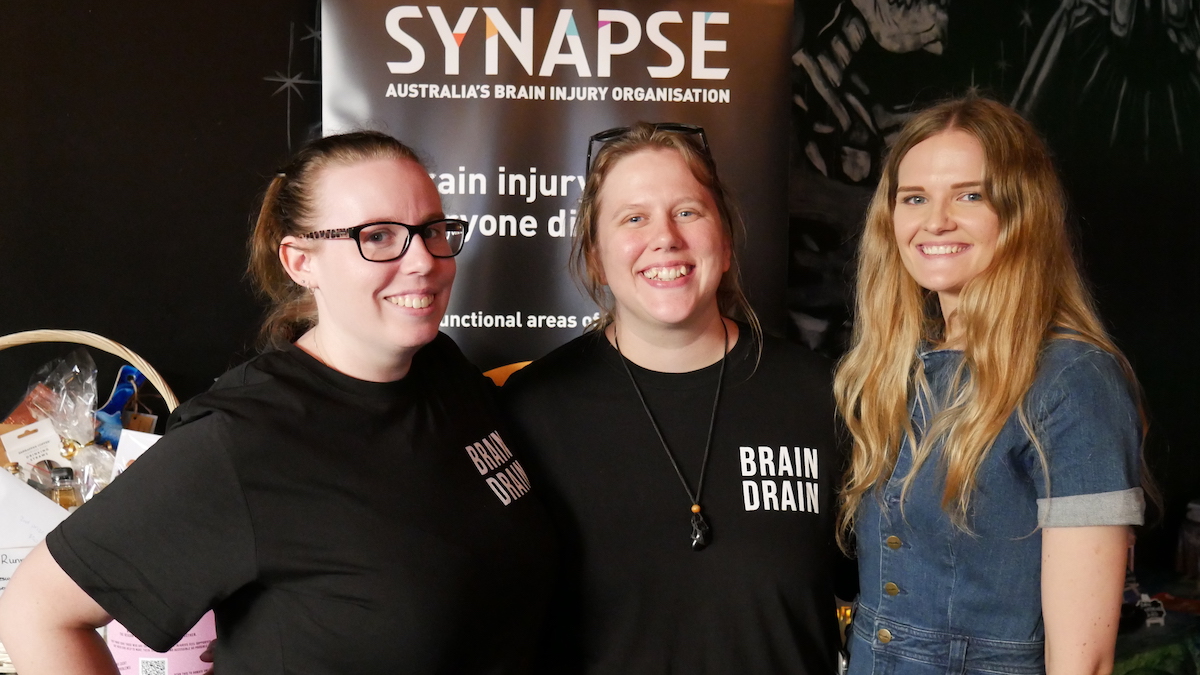 Brain Drain Co. hosted their inaugural Market Day in support of Synapse on December 21st at Crowbar in Brisbane's Fortitude Valley. The afternoon event saw local creators and musicians come together to raise awareness of the work Synapse does to support families impacted by brain injury.
Shelby Ouston was inspired to start Brain Drain Co. after recovering from brain injury caused by NMDA receptor encephalitis in 2017. Brain Drain Co creates unique clothing designs with the aim of bringing hope and encouragement to those walking the recovery journey. Shelby knows first-hand the challenges faced when trying to make sense of the effects of brain injury and the support required during recovery. With a desire to help people impacted by brain injury to find and understand the support available to them, their family and communities, Shelby decided to hold the Brain Drain Co. Market Day to raise awareness of Synapse.
Kicking off on a typically balmy Brisbane Saturday afternoon at Fortitude Valley's popular alternative and heavy rock music venue Crowbar, local creatives, producers and collectors filled the venue with an array of market stalls. Everything from handmade fairy gardens to bowties for cats and vintage records were on offer, drawing plenty of interest from those who came along. The Brain Drain crew also ran a raffle throughout the afternoon to raise additional funds for Synapse with the winner receiving a delightful bundle of goodies just in time for Christmas.
| | |
| --- | --- |
| | |
As the crowd gathered throughout the afternoon, Synapse Marketing and Communications Officer Chris Strutt gave a short presentation about the history and work of Synapse with a handful of heavy metal references thrown in to amuse the audience. Recounting Shelby's story and the effects of brain injury faced by many Australians, the presentation enlightened people about the ways Synapse works to support those impacted across Australia.
With formalities out of the way and the Brisbane summer sun fading outside, it was time for the music to start. Keeping with the spirit of the afternoon, local artists picked up their acoustic guitars to deliver a mixture of alternative covers and stripped back versions of their own original music. The relaxed environment presented a great opportunity for people to chat informally and openly about their experiences with brain injury and recovery – be it their own or that of a family member.
The Brain Drain Co Market Day showed just how important and meaningful it is to gather communities together, not just to raise funds but to encourage discussion and generate awareness about brain injury recovery. Synapse are delighted that Shelby and her team hosted this event and would like to thank Brain Drain Co., The Faction, Wall of Sound, Crowbar Brisbane  and all the creators and performers for their amazing support.
You can support us as we continue to deliver expert services and information to people across Australia impacted by brain injury with a once-off or recurring donation or get in touch to speak about individual or corporate support.