6 Jan
Brain Injury Network event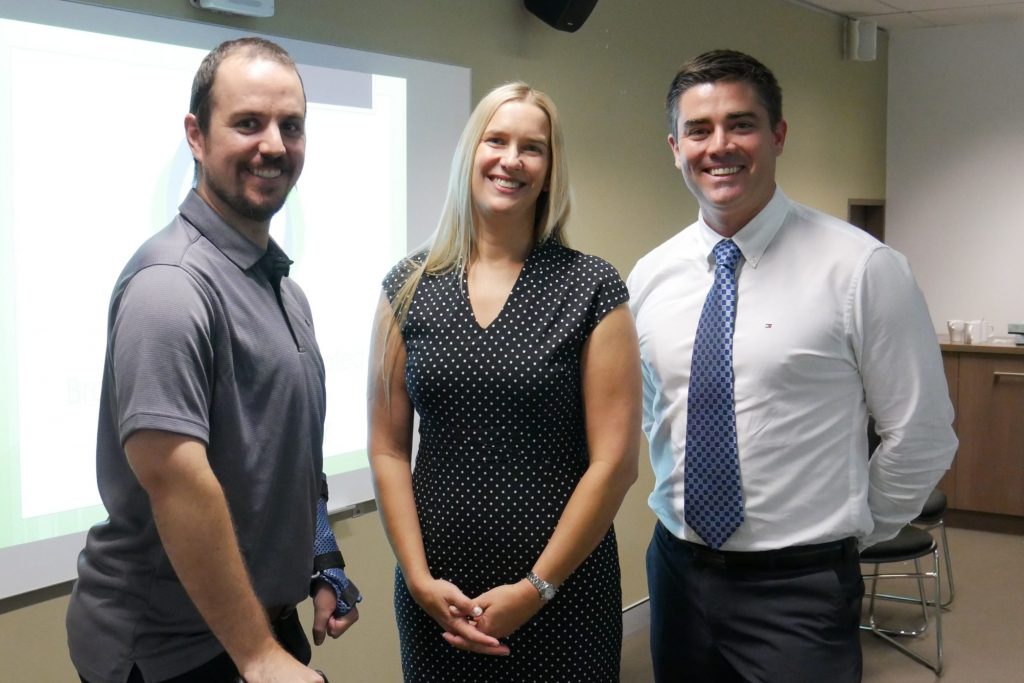 Left to right: Presenters Tim Cudmore, Brooke Kooymans and Travis Docherty
Our recent Synapse Brain Injury Network event featured speakers discussing their professional experience with working within the NDIS system, and getting the best outcome for their clients.
Kylie Kellalea, Synapse Options Facilitator said, "Each of the speakers brought new and valuable information to the group with everyone walking away with new knowledge. We were also fortunate to have a guest speaker to provide some insight into the lived experience of life with a brain injury."
The latest Synapse Brain Injury Network event was held on Thursday 21 November. This event is held bi-annually at the Synapse West End office, and is a fantastic opportunity for professionals to connect and network with others working in the field of brain injury as well as hearing from our lineup of speakers.
Our speakers for our November event were:
Rebekah Dewberry Director/Speech Pathologist and Samantha Morgan, Speech Pathologist from Red Soup Speech Pathology who gave a presentation on "Speech pathology, assistive technology and the NDIS",
Brooke Kooymans, Griffith University/Rehability. Brooke is a social worker with almost 20 years experience working in acquired disability, complex rehabilitation and catastrophic injury management. She is working on her PhD at Griffith University. Brooke discussed "Social Workers' perspectives on responding to the psychosocial need in the community neuro rehabilitation setting",
Travis Docherty, Clinical Director of Allied Health Services Australia; Paediatric Centre Gold Coast (Paediatric Specialist Medical and Allied Health); and Rehabilitation At Home, Physiotherapy Rehabilitation Services. Travis took us through the journey of "The Main Event" being the day the brain injury occurred through to successful reintegration back into the community as a NDIS participant. Identifying road blocks and how to overcome them and plan for the long term.
Tim Cudmore, a Motivational speaker, Life Coach and Disability Mentor.
Tim brought his personal experience with a Brain Injury and talked about his greatest achievements include surviving and thriving physically, mentally and emotionally despite severe impairments, training himself to walk independently, learning to drive without modification and mastering emotional response control.
Tim also talked about his specialised mentoring and education ventures through Cudmore Consulting and Problem solving (AKA AskTim).
In addition to the speaker presentations there was also networking time, where presenters and attendees shared information and developed connections.
To sign up for our Brain Injury Network mailing list, please contact us.