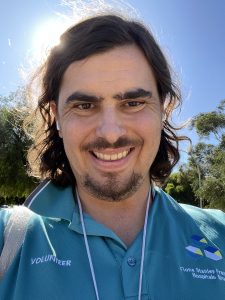 Passionate musician and hospital volunteer, Frederick suffered a brain injury in 2021. Frederick was struck in the head on his way home leaving him needing 55 skull staples. He stayed in hospital for three months and barely remembers the experience.
"I don't remember much about the few months after. It's been just over a year and it's like memories come back to me like raindrops," said Frederick.
Healing with music
In 2021, Frederick worked as a software engineer, which he never returned to. Music and playing guitar has always been a big part of Frederick's life and he continues to heal through his music.
"I feel passionate about music and my Bahá'í Faith. I feel music has an important role in spiritual inspiration and healing. I greatly enjoy playing beautiful melodies that are relaxing and enjoyable."
"It was a very nice feeling during recovery when I realised I could play an instrument again. I feel that when I play, I just get into a kind of feeling of what I should play before I play it."
"I greatly enjoy playing beautiful melodies that are relaxing and enjoyable."
Frederick performs as Sufy and his music is available to listen to on spotify.
Volunteering his time
37-year-old Frederick is currently volunteering at both Fiona Stanley Hospital and Fremantle Hospital in Perth WA to give back to others.
"Volunteering was recommended to me by my occupational therapist. I continued on with it because I just found it very empowering for myself. It's been very nice to in many facets."
"When I'm volunteering at the hospital, it feels like more serendipitous events occur. I might meet somebody that I've met before just unexpectedly and it feels very special."
Finding purpose in life
Frederick is now 37 and enjoying finding his purpose in life.
"With my faith, music, and volunteering – I've found my purpose. I feel having a purpose is important to everyone."
"My advice to others living with a brain injury is to be patient and focus on your purpose. Be patient and breathe deeply when you feel stressed."