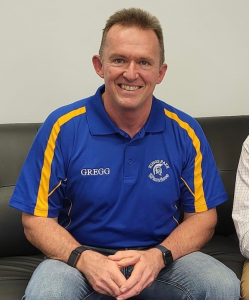 Father-of-two Gregg Oughton was a fit and healthy 51-year-old when he suffered a stroke during his usual CrossFit session at the gym. The Perth local has since become passionate about helping others recover and support their wellbeing and created King Park Warrior support groups in Perth WA.
"When I had my stroke, my vision went really weird, like the world was turning upside down. I touched my wife on the shoulder, and she saw my face. I had the whole drooping thing happening and I was starting to get paralysed, things like that," said Gregg.
"Luckily our gym was only 5 minutes from the hospital. By the time we got to the hospital, I had was completely paralysed. I'm grateful the clot-buster drug they administered started to give mobility back to my affected side."
King Park Warriors support group
Gregg now dedicates his time to running a support group for others stroke survivors and people living with a brain injury, called King Park Warriors.
"After my stroke, I was having trouble speaking, saying the opposite words. I stayed for nine weeks at the State Head Injury Unit (SCGH) at Sir Charles Gairdner Hospital doing a course on how to get back into life after stroke, learning stuff like managing fatigue."
"All the people I went through the nine-week course with became the first members of Kings Park Warrior support group."
Five years on, the King Park Warriors group now has over 100 members that periodically attend meet ups seeing them benefit both physically and mentally.
"You can do more than you think you are capable of after the brain injury, but you will need to accept that the achievements may come slowly. Don't let the speed stop you from achieving and contributing," said Gregg.
Managing the invisible symptoms
Gregg continues to stay fit and healthy and practice discipline to combat the fatigue that can come with living with a brain injury.
"I find is there's a lot of components going to being able to manage fatigue for me. It's keeping my fitness up and trying to eat properly. It's still challenging obviously."
"I don't drink now. I focus on drinking enough water. I stay off the caffeine after lunch."
"When I don't stick with those things, for me I really the fatigue goes way up. It takes control and I'm still really tired at night and I still have periods where I lose my words."
"You are capable and achieving what you want to achieve, even if it comes slowly. Break everything into small chunks. Achieving small components of what needs to be done helps you get to the same goal."