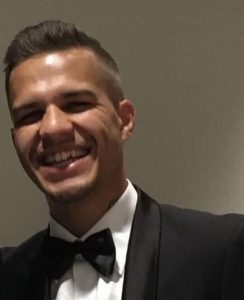 Jalen was a keen AFL player working in traffic control when he attended a family event, then woke up three weeks later in hospital. Jalen struggled to remember what happened and was left recovering from a brain injury.  
"Just before my injury, I was working as a traffic controller and labourer. I had my first daughter, living with my partner and my little family. Everything was going well, then I unexpectedly got a brain injury. It slowed me down in my tracks. My head was all over the place," said Jalen.  
A difficult road
Jalen has been through a lot before his injury, losing his dad at 16 saw Jalen turn to drugs and alcohol. After his injury, Jalen became more eager to change his lifestyle and reinvent himself.  
"My dad passed away at 36. I've been running for a long time and using drugs and alcohol to cover up how I was feeling, then I started to do good. I'm six years off drugs and two years sober off alcohol now since my injury. Trying to pick myself up and come back bigger, better, and stronger to give a bit of hope to other brain injury survivors." 
After hospital, Jalen was unable to return to work or the sports he loved. The biggest challenge in his recovery was his mental health, as he battled with the reality of not being able to work to provide for his family.  
"Challenging would be my mental health. It's very difficult not being able to provide financially for my family. It's been very stressful for me and my partner to not be on top of bills. Struggling to pay for little things like putting fuel in the car, grocery shopping, and household bills." 
Doing whatever it takes
Jalen is passionate about sharing his story to inspiring others who are living with a brain injury, or who have lost their parents at a young age. This led him to start his own clothing business called Whatever It Takes. 
"Whatever it takes is about inspiring others to keep going and pushing on. I've always been inspired and driven, especially since my dad passed. My goal was to live longer than my dad and he's the one that taught me to do whatever it takes. He's my inspiration and I'm now passing it on." 
Recovering and learning
Since his injury, Jalen has learnt a lot about himself and about brain injuries themselves. His advice to others is not to give up.  
"Brain injury is a lifetime recovery. It doesn't happen over a day, a couple of weeks, a couple of months, couple of years – it might be the rest of your life. To others with a brain injury there will be hard days and worst days but with the right support round you, you'll be ok. Have a little bit of faith, hope, and belief in yourself. It's not over, it's not the end of our lives and we don't have to give up." 
Jalen is now 26 years old and lives with his partner and his daughter in Perth. The couple are excited to welcome a new member to their family in the coming months. 
Watch Jalen's tell his story below: