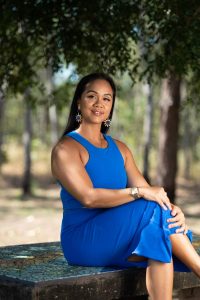 Myra is a proud Gurindji and Wakka Wakka woman, an International Leadership Expert and Business Coach, and a best-selling author who's been living with a brain injury for the past 7 years. Myra was assaulted in her Darwin home by her ex-boyfriend seeing her admitted to hospital and placed in an induced coma for 11 days.
"I don't remember anything after the assault because I guess as you may know that the brain has a protection mechanism. I remember being in a coma; I could still hear my family around me. I was in this state of dreaming where I was still carrying on with everyday life and it was like I was working."
"At first when I was recovering in the hospital, I was sensitive to light which is called photophobia. I had heightened senses like the sense of smell. My taste changed; I couldn't really taste properly. I was sensitive to noise, I would experience mood swings and the hospital didn't have the resources at the time to support my brain injury, but they did their best to ensure I was taken care of. They now have a head trauma unit in Palmerston which is 20 minutes away from Darwin, and I think it's because of my case that may have influenced that."
Myra has become deeply driven to help others achieve their personal and professional goals, which has seen her become immensely successful.
"It was four years of me being reborn, learning how to walk and talk again, and how-to live-in society as a functional human being. Yet, those first four years when I look back on it and it was me suffering and being a victim to my circumstances."
"The way I felt is no on else's fault, so I needed to start taking more ownership for myself and my lift. My "why" then became about supporting other women and men to have hope and know that we all might experience some kind of abuse in our lives, but we are not those labels of being a DV survivor or a victim of assault."
Now, Myra is an International Leadership Expert, Business Coach, founding her own business, Myra Fordham Coaching. She is also a best-selling author of Hear Her Roar and Intuitive Seeing Her Truth, Northern Territory's 2023 NAIDOC Person of the Year and was a Young Australian of the 2023 Northern Territory nominee for the NT. Across 2022 and 2023 Myra has been nominated for fourteen awards.
"I found my purpose through pain and turned it into my passions. Sometimes there's days where there'll be challenges. But I genuinely, wholeheartedly love exactly what I do and how I support other people in my business through being their mentor or their coach."
Myra's Advice
When asked about what advice she has for other are recovering from a brain injury, Myra said, "have a mentor in your corner who has pulled through their own brain injury and life challenges, someone who you feel safe with to express your thoughts and feelings with as no one else could understand and hold space for you and be accountable."
"Mindset, consistency, and repetition are your best friends. Rest frequently, try sleeping mediations for relaxation but continue to move your body daily. Practice self-compassion, self-acceptance, self-love, and self-care as often as you can."
"When I was in hospital, I was drawn to Synapse's ABI the Facts which helped me to understand what a TBI looks like, feels like and the behaviours which I found interesting, and I enjoyed reading it. At that stage this was the only way I was supported. Now I am an ambassador for Synapse which is really exciting!"
myrafordham.com
Instagram: @myrafordham
LinkedIn: https://www.linkedin.com/in/myra-fordham