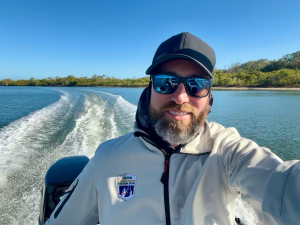 42-year-old Sean Gardner was an aluminium Welder and competitive waterski racer before an accident in New Zealand changed the course of his life.
Like any Gold Coast local, Sean enjoyed hiking, fishing, and going to the beach with his wife and dog, Van – things Sean says were critical to his recovery after suffering a brain injury.
The freak accident
In 2019, Sean was in New Zealand ready to compete in a waterski race when he had an accident while training the day before the event. While skiing Sean fell hitting the water at 179km/h, which saw him suffer life threatening injuries.
"Started out all good and then I had a freak accident. I fell and when I met the water it felt like I was hitting concrete," said Sean.
The fall dislocated his skull from his spine, ruptured tendons in his neck, caused spine and rib fractures, a collapsed lung, bleeding on the brain as well as other cuts, bruises and injuries – including a brain injury. Requiring a six-hour emergency surgery.
Grateful to be alive
"At first the doctors were unsure if I'd survive and didn't know the extent of my brain damage. They didn't know if I'd be able to move or talk again."
"If it wasn't for the how my recovery unfolded and the relentless training I did (neck exercises specifically), I wouldn't be here today."
"It's definitely changed my perspective on life. I never took it for granted before in any way, but it's definitely changed everything. You don't sweat the little things now.
"You think of your family a lot more and just how precious and short life really is."
Returning to what he enjoys
During recovery, Sean found ways to take part in things he enjoyed before his accident helped him feel more like himself.
"Being competitive, I felt like I had a massive hole to fill when I had my accident. I've loved getting back involved in sports like shooting, which isn't physically demanding but still very challenging."
"Walking my dog has been a blessing in disguise as it has helped in my physical recovery. Colouring in has also helped soothe my mind when I get overwhelmed with the stresses of everyday life."
Sean started a new career as a NDIS support worker after finishing his Certificate III in Allied Health Assistance as he couldn't return to his career as a welder.
Attending support groups organised by Australian brain injury organisation, Synapse helped Sean feel less judged in his recovery.
"I've found a great bunch of people that I'm happy to call my friends. It's been fantastic having like-minded people to talk to about having a brain injury. Being able to talk and not be judged when I would be lost for words or go on tangents that might be about something completely different."
Advice to others
Four years on, Sean's advice to others living with a brain injury is to be patient.
"Try not to fall in the comparison trap, your life is different now. Take life one day at a time and don't rush things. You will have bad days, but you will also have great days. Be patient with yourself."
"I like to think of it like I did with my racing, I was always looking for that 1% that would help me to be a better athlete. The difference is now I'm still striving for that 1% but as a better me."